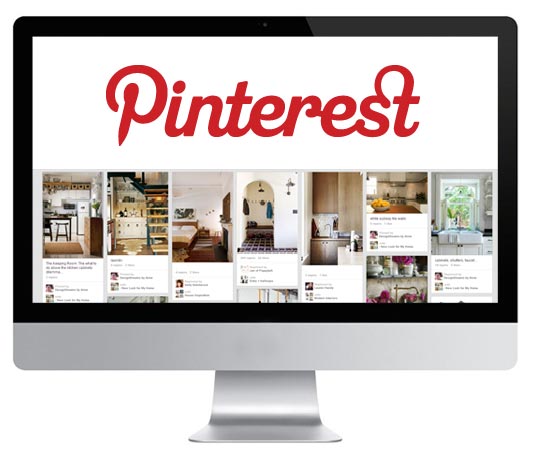 The Power Of Pinning Is A 7 Module Course That Teaches All Of The Skills And Strategies For Using Pinterest To Generate Traffic And Gain Brand Exposure For Businesses. It Starts With The Basics Then Graduates To More Advanced Marketing Strategies.
The Power of Pinning is an online training program for people who
run a product or service based business and get clients online
want to be getting results from Pinterest, but are short on time
want a clear and concise plan that will get you results.
If you want someone to break it down for you step-by-step, show how to get more clients, this is for you.
Pinterest is the 4th largest traffic driver worldwide…
…and you're about to get a nice chunk of it
Over 7,000 members have boosted their sales and traffic
using The Power of Pinning course.
Will Pinterest work for your business?
You may have heard a lot of hype about Pinterest, and are wondering if it could really work for you and your business. I was skeptical too, until I saw firsthand the transformation made possible by applying a few simple (yet surprising) strategies.
Most people are NOT using Pinterest to its full potential. They just don't know what to do.
Well imagine significantly increasing the traffic that you receive from Pinterest in less than a week, and having fun while you're doing it! Wouldn't it be great to have a clear and concise plan to follow so that it's not overwhelming and you confidently feel that you are doing it RIGHT?
Regardless of your industry, Pinterest is now too big to be ignored – it's now driving more traffic than YouTube, Google+ and LinkedIn COMBINED!
Plus traffic that comes from Pinterest has the highest revenue per click than any other social media site out there!
The Power of Pinning Course:
Online training program to make Pinterest work for your business
---
The Power of Pinning course is a 100% online training program. After you complete the payment, you will get access to the members-only area with all of the training videos, bonuses and the workbook.
This course is for you if…
You are a product or service based business owner who is short on time, but want to be getting results from Pinterest.
You are overwhelmed by social media and want a clear and concise plan that will get you results.
You aren't particularly "tech savvy" and want someone to break it down for you step-by-step.
Here's what this product does for you…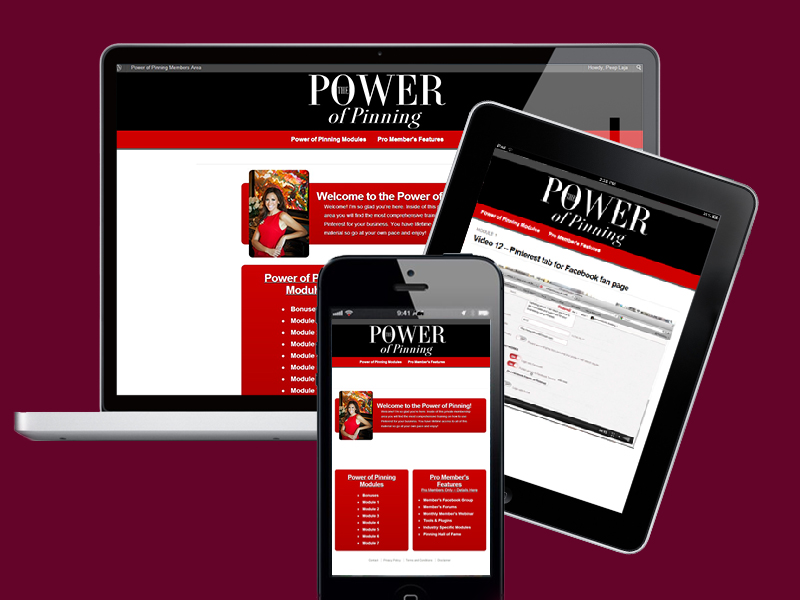 How to Optimize Your Profile for Traffic & Sales

You will be provided with a quick start action guide to start getting you results fast.
Learn how to set-up and leverage an official business account on Pinterest.
Watch step-by-step video tutorials that will walk you through how to do everything that you need to do.

Strategies for Surpassing the Competition in Your Industry

How to get great results from Pinterest in less than an hour a week.
3 secret SEO strategies to get you more sales.
A list of ideas for ways to utilize Pinterest that NO ONE else is using.

A Step-by-Step System for Successful Content Creation

Simple tutorials for creating great visual content.
Great time saving tips for pinning and fostering engagement.
How to protect yourself from legal and copyright issues.

An Inside Peak at the Brands Who Are Doing it Best

Understand exactly what you should be pinning.
How to get your pins repinned for viral exposure.
Learn how to easily leverage contests for massive visibility and sales.

How to Increase Your Visibility & Grow Your Brand

How to sell services on Pinterest.
The best way to tap in to millions of potential customers for free.
Strategies for successful use and ideas for your boards.

Simple Strategies for Getting Lots of Followers – FAST

How to get your page in front of thousands of prime customers for FREE.
My simple 3 step system for turning your influence into income.
How to leverage your competition's page.

The Secret to Amplifying Your Results

Learn how to track your pins and quickly create a strategy to increase your sales.
A system for collecting information that you can use to better shape and grow your business.
Tutorials on FREE TOOLS to track your traffic & results.
To go along with your video training, you will also receive access to a PDF workbook filled with printable worksheets full of note-taking slides, frameworks and exercises to get your creative juices flowing.
Stop wasting your time.
Start getting traffic and sales from Pinterest today
---
GET THE POWER OF PINNING
SPECIAL ONLY…$97

Become Your Own Life Coach Today: You never stop being a student until the day you stop learning!
Quality Personal & Business Development Online Course, Tools and Strategies!